This autumn's London Islamic sales (click here for the links, in alphabetical order, for Bonhams, Christies and Sothebys) include a collection of tiles which are surely from the Khargird madrese in NE Iran. I have a special fondness for this building – and have seriously mixed feelings when I see more of the tiles on the open market rather than on the madrese.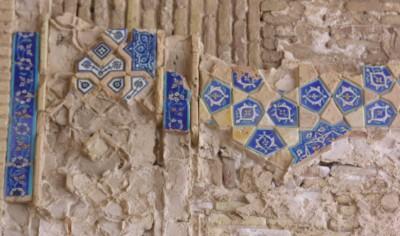 Here's the only (partial) 12 pointed star tile still left on the building. You can see many of the other types of tiles on sale at Christies too. What a gorgeous mishmash of decorative styles and technical types!
I've already written here about the tiles and something of when and perhaps even how they were stolen, but this week, I wanted to suggest that maybe I was wrong in what I have previously thought about each of the twelve-pointed stars being unique. The star-tiles in the V&A, the Met, the BM, the David Collection, the one published by Diez, and those seen in various sales rooms are each different.
The tile in Christies, however, looks very similar to the one in the David Collection. I'm going to go and take a close look.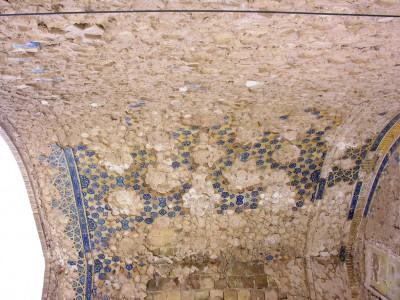 And, of course, check out all the other goodies on offer!
Just so you can understand my mixed feelings about see the tiles off the building, here's a view into the north iwan. The 'air' on the left shows how we're looking up into the 'roof' of the iwan. The round-ish gaps are where the star tiles used to be. The clearance of the tiles lower down in the iwan (to top and bottom of the iwan) surely reflects how much easier it was to remove all the lower tiles.
If you click here, there is a picture of a wooden 'frame' in the madrese. Too flimsy to provide structural support, I think this shows how the tiles were 'liberated'.