Lord Curzon has described Thomas Herbert's work as: "by far the most amusing work [on Persia] that has ever been published"[1]. Although Herbert visited Iran in 1626-29 – so, after della Valle and Figueroa – his account was made publicly available much more quickly. The first edition of A relation of some yeares travaile.. Into Afrique and the greater Asia, especially the Territories of the Persian Monarchiewas published in 1634. Herbert's book was then reprinted and augmented five times, with additional Dutch and French translations appearing in 1653 and 1668 respectively[2].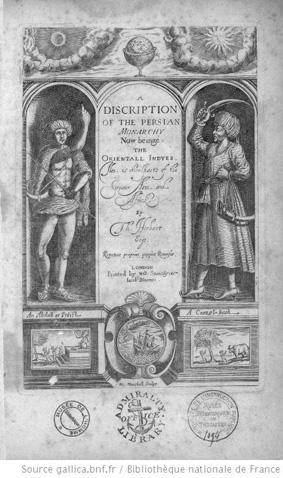 The date and popularity of Herbert's publications make them important early influences on the symbolic image of Persia. I'm most interested in Herbert's writings, though, because of the significant changes between the various editions.
About Isfahan, these include differences in tone as well as in how much is written about the city. In 1634, in his five-page Description of Spawhawn [Isfahan], Herbert seems unimpressed with the town:
"But he that wrote… that [Isfahan] was and is the most stately citie in the Orient… I cannot believe him, for I… could see no such strengthe, bulke or rareness in her"[3].
In 1638, he not only devotes twice as much descriptive text to the town[4] but is also much more enthusiastic:
"Spahawn .. the Metropolis of the Persian Monarchy; yea the greatest and best built City throughout the Orient"[5].
---