I've been taking my own advice and enjoying myself looking at the Islamic sales in London. As well as the star tile from Khargird at Christies that I focused on last week, it was also great to see a 1920-21 album of photos of Bakhtiari men at Bonhams.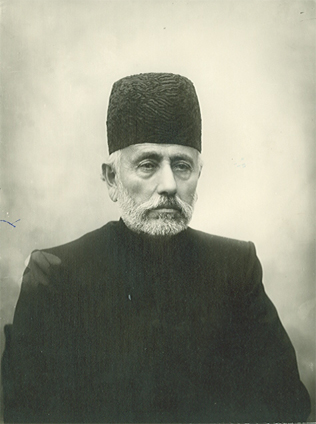 This album includes a photo of Samsan Saltaneh II. I've already written elsewhere about his energetic wife, Bibi Sahab Jan and how Dr Elizabeth Ross thought that she was the real power, at least in tribal terms.
Sardar Zafar is in the album too. Here he is looking splendid with his entourage – even though, later on, Vita Sackville-West was less than complimentary both about his "dumpiness", and how he sent her tinned groceries when she visited "the Company" (Anglo-Persian Oil).
Bonhams are also selling a lovely Qajar tile – to my mind, prettier than the one at Christies.
Then at Sothebys, as well as some luscious Kashan lustre pieces (lots 155-167), there's a fine drawing by Muhammad Qasim of 'A Maiden and Bearded Man'. I was thrilled (before I read who the artist was) to be reminded of the drawing in the Louvre of Shah Abbas and his sexy cupbearer (shown to left) – and then to realise the maiden was by the same artist. Maybe my eyes are getting better! There's another drawing by the same artist in the Met, with a very similar tree, called 'Chastisement of a Pupil'.