Starting on the side of a mountain and ending in a Luscious Fruiting Forest of Dreams.
Multimedia theatre event as part of Wandsworth Art Fringe 2019 at Tara Arts on 10 May 2019
Videos are at http://bit.ly/2YGW6jF and YYY.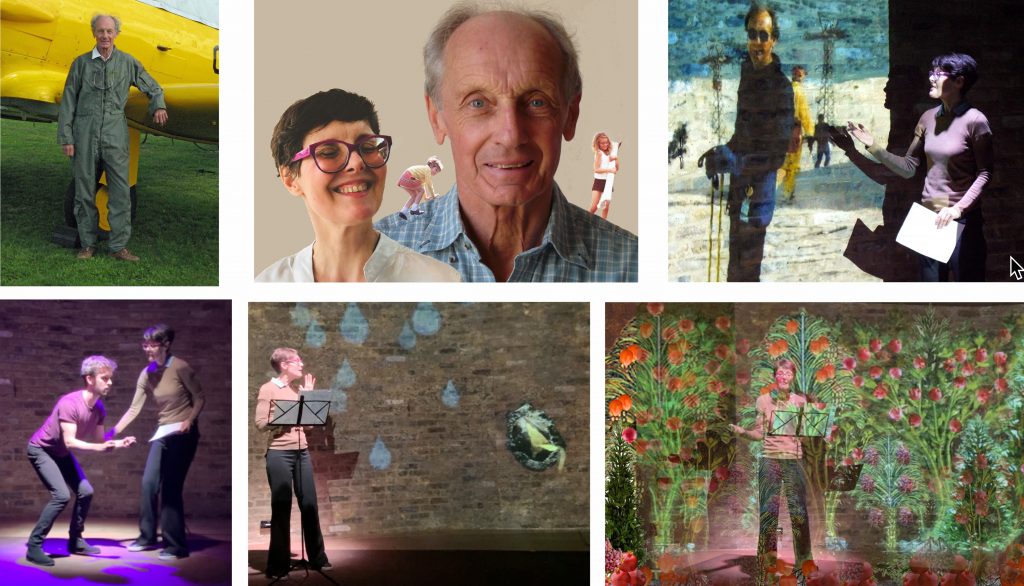 1.
This is my DAD. He's an Expert at LIVING.
Even though the Doctors told him his Cancer was TERMINAL.
My dad kept on and on EXPERTLY living, living, living.
Specific video: http://bit.ly/2YGW6jF at 2.23
2.
Then one morning. When my DAD was more DYING than living.
He told me he wanted to be dead.
I got him in a hospice. Slept. Beside him. On the floor.
Didn't want him left lonely.
at 3.30 in http://bit.ly/2YGW6jF
3.
I kept on thinking how to make dying FUN for my dad.
As FUN as LIVING is for my dad.
ULTIMATE LIVING for my dad is skiing. So I asked him: "Tell me about your last BLACK RUN".
"I hit black ice", he says."And when you hit BLACK ICE", he says. "you can't stop or turn. You have to keep going."
Now he's back. Inside his head. Skiing that BLACK BLACK ice. On his last black run. Keeping going. Keeping going.
"So", I say, "when it got tough, you did it. All by yourself. You did it."
"It's ally good analogy", he says. "It's a really good analogy".
And now. I know. He's going to be ok. We both know he's going to be good.
4.
Later on my dad stops talking.
I want to freshen him up. I put his arms. Around my neck. To sit him. Forward.
And He. Tries. to get out of bed. Goes. To stand up.
I don't want my dad to fall. I try to help him back into bed.
Until. I realise. What. He's doing. He's got his feet on the floor by now.And he's in. An almost-perfect. SKIING POSTURE. He's skiing.My dad. DOESN'T WANT TO DIE LYING DOWN.
5.
I knew. Straight away. When my dad took. His LAST BREATH.
I kiss him. Kiss. His face. Hug him.
A great river of nonsense is dripping. Off my chin. Bunging up my nose.
I lie down with my dad. Tell him. How very very well he did. On his truly last Black Run.
This. Is the first. AMAZING. Thing. In my Life
That I won't be able to tell my dad about.
My dad's LAST breath. Is my FIRST breath. Without him.
6.
Often. in the hospice. I washed my dad. Freshening him up through the day.
Just because he has died, I'm not going to stop.
He. Must. have washed me. ALL OVER like this.When I was a small baby.
My small self must have been just as awkward. As he is now.
And just as BEAUTIFUL as he is now. To eyes that can see
"It got tough, I say to him. "but we did it.Together. We did it."
Cos it turns out. that my never-done-it-before dad. Is an EXPERT at dying as well as living.
He let me help him. As a gift.
You too. You too can do this.
Maybe not with any skiing at all. But the togetherness.
You CAN do that.Its the Ultimate in Family Living.