… new-bathed, painted and henna-stained, and scented sweet. (Sa'di, 1258)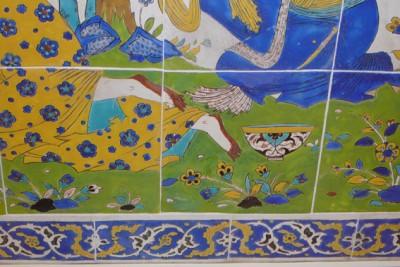 Last week I saw a rare painting of a beautiful young woman painting her feet with henna. She has very lovely, multi-layered clothing, and is leaning against a splendidly orange cushion (with a graceful golden duck). The lady has her feet on a pile of henna leaves – although there were special foot-stools for henna application (including one in the Pitt Rivers Museum).
It reminded me of the large tile panel, now in the V&A, perhaps originally from the Chehel Sotun, showing a lady with henna-ed feet lounging at a garden party. There are two other tiles showing a lady with henna-ed hands in the V&A. Click here and here to see them – they are thought to have come from a bath-house, or perhaps a Safavid-era palace.
There's more to read – and lots more to see – on Persian henna if you click here and here. I didn't know, or maybe had forgotten, that women were henna-d before childbirth (to ward off the Evil Eye, or to make them beautiful for the afterlife if they died in childbed).